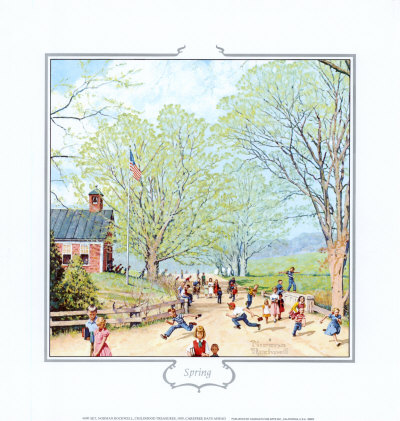 My memory of school is quite vivid. I know that 3rd grade was my favorite year....Mrs. Albert was my teacher and I loved her. She was strict...but I always felt like she loved what she did. I remember the book she gave me on the last day of school and I of course have it on my bookshelf.
I moved from a public to private school for 6th-9th grade. I was reluctant at first....I really liked the school I had come from and wasn't ready to move on. My mom told me to give it a month...and then I could go back if I wanted to. When my 6th grade teacher passed out the textbooks...I thought to myself..."I will just be returning these to you very soon." Ha....I of course fell in love with my new school and friends. Mrs. Meier was one of my all time favorite teachers...I loved her ability to stay calm and this is funny.....the smell of her International Delight coffee.
I returned to public school from 10th -12th. Unfortunately, it wasn't my best experience. I had a difficult time adjusting to such a BIG school after being in a small learning environment. Looking back....I didn't try very hard and lacked motivation. Thankfully, my Jr. year I got involved with drama and this became a highlight for me. I also had a very good friend...Fay....who helped with so many "high school" issues.
Now I am faced with a dilemma for my two kids. Our elementary school ends after 5th grade. My daughter enters middle school in the fall. I am in the process of trying to decide where to send her. Our choices are our neighborhood middle school, a local Christian school, or.....? Then my son needs a change....for personal reasons....I will save that for another post after it has been solved.
My first wish would be for both of my kids to stay home with me....and use the Charlotte Mason homeschooling curriculum. Most people would be shocked to read this...I never planned on this as an option....and I am not saying this is our final choice. The more I research different schools and knowing the history of my kids....it just seems like a logical one. Would it be difficult?....of course. Would I miss my free time?....most definitely. Would my kids listen? not sure.
My heart is heavy with decisions to make. I truly believe in educating the WHOLE child...knowing what type of learner your child is (mulitple intelligences) ....and seeing the world from how God created it.
I also live in the real world and know that this may be impossible....but I at least want to strive for it. After all...we only have our kids with us for such a short season and I feel like my time is running out!
If you are still reading...thank you.
To end on a positive note....what year was your favorite and why?
Blessings,
Jen
This is on my devotional calendar today......
God is personally involved in the very days and details of your life.